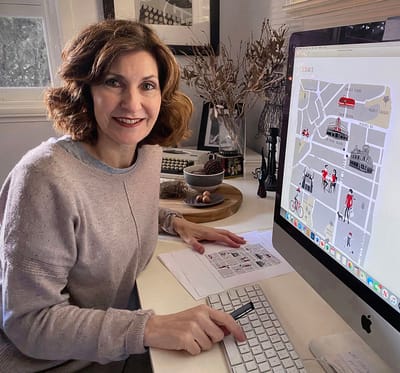 Hi, my name is Gillian and I am a Graphic Designer, Illustrator. I specialise in map drawing. I am based in Perth, Australia but produce work internationally. I communicate with you to create a map that suits your needs whether that be fun or professional and informative. I can create a beautiful illustration of any area or project you have in mind. This may be of a country, state, region, street, neighbourhood, wedding, travel, or even fictional.
My work is unique and can feature illustrations of landmarks, buildings, animals, icons or whatever is required. I am passionate about every job I produce so I encourage personal input so that I can create the perfect image.
I can also provide custom logos and surface pattern design.
The final artwork can be saved for web/online use or for high quality printing. I supply the files as a pdf, jpg, tif, psd or what ever file type is required.
I would love to create a special map or illustration for you.
Use my email below to contact me to ask any questions you may have or to get a quote. You can see more samples of my work by visiting the link below.
https://www.etsy.com/au/shop/Esani